As a sideline to breeding our beloved Spanish horses, we have diversified into breeding the rare Arapawa sheep.
The hardy Arapawa sheep evolved over many years on Arapawa Island in the Marlborough Sounds and was originally thought to be descended from merinos left on the whaling stations, however a recent genetic study has found that they are not related to the merino sheep at all and their closest relatives are gulf coast native sheep which were predominantly bred from Spanish breeds, so it is now thought that the Arapawa sheep ancestors arrived in NZ some time around the 1500's on Spanish galleons!
We have a number of skirted Arapawa fleeces available for sale, please contact us for details.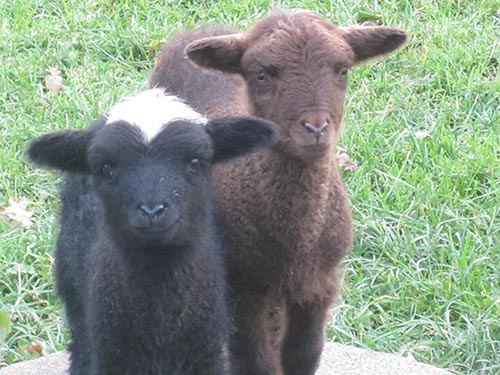 Arapawas are hardy, intelligent easy care sheep with excellent feet and great flystrike resistance. They produce a lean sweet flavoured meat and have fine dense fleece, and they look very similar to the Manchego sheep which product the delicious cheese loved by all Spanish people.
Their colours and coat patterns are very striking as can be seen in these photos of our spotted ram "Bambam" above.
Arapawa Rams have spectacular horns and most ewes develop small horn scurs.
Bambam with some of his progeny.